Creating a website from scratch may seem like a daunting task, but it doesn't have to be. With the right tools and a little bit of know-how, anyone can create a website that looks professional and functions smoothly.
In this article, we will outline seven easy steps to help you create a website from scratch. These steps include everything from choosing a domain name to designing your site and launching it online.
So, whether you're starting a blog, launching an online store, or creating a portfolio site, these steps will help you get your website up and running in no time. If you're ready to start building the website of your dreams, let's get started now!
7 Easy Steps to Create a Website
Here are the 7 simple steps you need to follow if you want to create a website:
Step 1: Choose a Domain Name.
The first step is to choose a domain name. This is the address that people will type in to access your website. For example, our domain name is "www.makemoneyforsure.com."
Your domain name should be short, easy to remember, and relevant to your site's content. It should also be easy to type and spell, as this will make it easier for people to find your website online.
Step 2: Choose a Website Hosting Provider
Once you have chosen a domain name, the next step is to choose a web hosting provider. A web hosting provider is a company that provides the technology and services needed for your website to be accessible on the Internet.
There are many web hosting providers to choose from, but we recommend Hostinger for beginners. Hostinger is a popular web hosting provider that offers affordable pricing, reliable service, and excellent customer support. Here's how to get started with Hostinger:
Go to Hostinger.com and click on the "Get Started" button.
Choose a hosting plan. Hostinger offers various plans with different features and resources. Take a look at their plans and select one that suits your needs.
Choose a domain name. If you don't already have a domain name, you can choose one through Hostinger. They provide domain registration services at competitive prices.
Fill out your account information and choose your package details. Provide the necessary information to set up your hosting account. Select the desired contract length, add any additional services if needed, and enter your payment information.
Create a password and log in to your Hostinger account.
Install WordPress. Hostinger offers an easy installation process for WordPress. They provide a user-friendly control panel where you can install WordPress with just a few clicks.
Once you have signed up for Hostinger and installed WordPress, you're ready to start building your website. Hostinger offers a user-friendly control panel and 24/7 customer support to assist you throughout the process. With Hostinger, you can have confidence that your website will be reliable and accessible to your audience.
Step 3: Install a Content Management System (CMS)
Now that you have chosen a web hosting provider and set up your account, the next step is to install a content management system (CMS) on your website. A CMS is a software application that allows you to create, manage, and publish digital content on your website.
The most popular CMS is WordPress, which is user-friendly and has a wide range of themes and plugins to choose from. Installing WordPress is easy, and Hostinger offers a one-click installation process. Here's how to do it:
Log in to your Hostinger account.
Click on the "My Sites" tab and then click on the "Create Site" button.
Enter your site name, tagline, and other details.
Choose your domain name from the drop-down menu.
Choose your site settings, including your site title and site description.
Click on the "Create Site" button.
Once your site is created, click on the "Login to WordPress" button.
Congratulations! You have now installed WordPress on your website. Now, you can start customizing your site by choosing a theme, installing plugins, and adding content. With WordPress, you don't need any coding skills to create a professional-looking website.
If you prefer a different CMS, such as Drupal or Joomla, you can install them through Hostinger as well. However, we recommend WordPress for its user-friendliness and versatility.
Step 4: Create a Website Design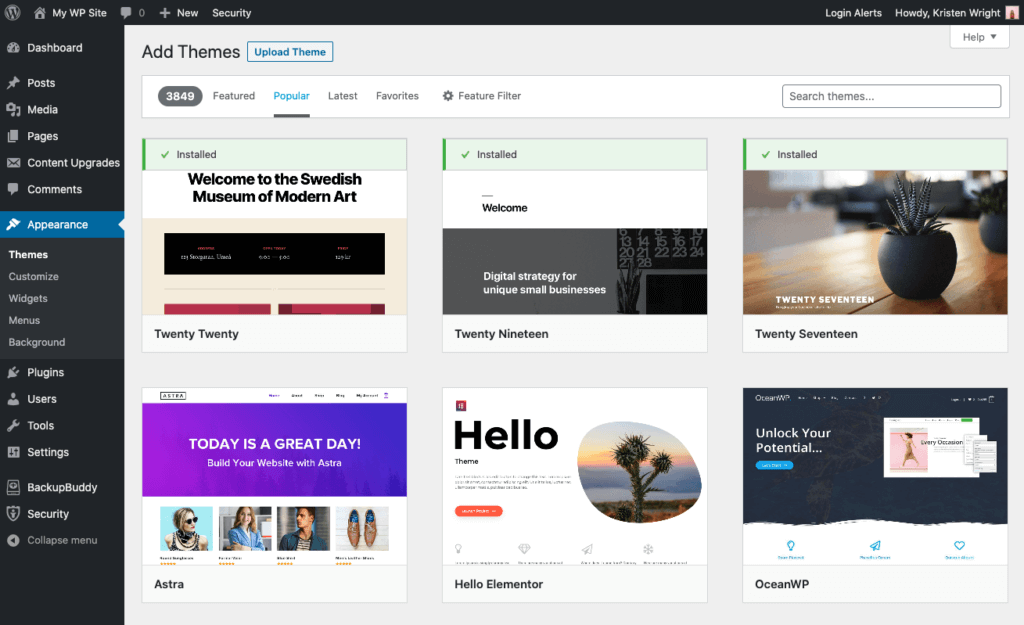 Once you have installed WordPress on your website, the next step is to create a website design that will represent your brand and appeal to your target audience. There are many free and paid WordPress themes available, and you can choose one that suits your business needs.
To install a free WordPress theme, go to your WordPress dashboard and click on "Appearance" and then "Themes." You can choose from the free themes provided by WordPress, or you can purchase a premium theme from a third-party provider. Once you have chosen a theme, you can customize it by adding your own logo, changing the colors and fonts, and adding your content.
When it comes to premium WordPress themes, Divi is one of the most popular and versatile options on the market. Created by Elegant Themes, Divi theme is a drag-and-drop page builder that allows you to create custom layouts and designs without any coding experience.
Step 5: Add Content
The next step is to add content to your website. Your content should be engaging, informative, and relevant to your target audience. You can create pages for your homepage, about us, services, products, and contact us. You can also create a blog where you can share industry news, tips, and other useful information with your audience.
When creating content, make sure it is optimized for search engines. This means using keywords that your target audience is searching for and including them in your content. You should also include internal and external links in your content to improve your website's SEO.
Step 6: Promote Your Website
Now that you have created your website, the next step is to promote it. There are many ways to promote your website, such as:
Social media: Share your website on social media platforms like Facebook, Twitter, LinkedIn, and Instagram.
Email marketing: Build an email list and send regular newsletters to your subscribers.
Paid advertising: Use paid advertising platforms like Google Ads and Facebook Ads to reach your target audience.
SEO: Optimize your website for search engines by using keywords, creating quality content, and building links to your website.
Step 7: Analyze Your Website's Performance
Finally, it is important to analyze your website's performance to ensure that it is reaching its goals. You can use tools like Google Analytics to track your website's traffic, user behavior, and conversions. This information can help you make data-driven decisions to improve your website's performance.
Some of the key metrics to track include:
The number of visitors: This measures the total number of people who visit your website.
Bounce rate: This measures the percentage of visitors who leave your website after only viewing one page.
Conversion rate: This measures the percentage of visitors who take a desired action, such as filling out a form or making a purchase.
Page speed: This measures how quickly your website loads.
By analyzing your website's performance, you can identify areas that need improvement and make changes to optimize your website for success.
Заключение.
Creating a website from scratch may seem intimidating at first, but by following these 7 easy steps, you can create a professional-looking website that represents your brand and helps you achieve your online goals.
If you follow these steps and continue to refine and improve your website over time, you should be able to build a successful site that attracts users and generates revenue for your business.
What you are waiting for? Start your very first website now!