In the ever-evolving world of cryptocurrency, Bybit has emerged as a prominent player in the industry. As we step into 2023, it is essential to assess the current state of this popular cryptocurrency exchange and evaluate its pros, cons, features, and overall user experience.
Bybit has gained recognition for its user-friendly interface, comprehensive trading options, robust security measures, and competitive fees. However, it is crucial to delve deeper into these aspects to provide a comprehensive Bybit review and assist both novice and experienced traders in making informed decisions in the cryptocurrency market.
In this article, we will examine the various facets of Bybit, including its user interface, trading features, security protocols, customer support, and more. By offering an unbiased and detailed analysis, we aim to provide readers with a comprehensive understanding of Bybit's offerings and enable them to make well-informed decisions regarding their cryptocurrency trading activities.
ByBit Features
Bybit boasts a user-friendly and intuitive trading interface, designed to cater to both novice and experienced traders. The platform offers two main trading options: spot trading and derivatives trading. Spot trading allows users to buy or sell cryptocurrencies at the current market price, while derivatives trading enables traders to engage in leveraged trading with futures contracts.
One of the standout features of Bybit is its highly customizable trading interface. Traders can personalize their trading experience by adjusting chart layouts, selecting from a variety of technical indicators, and setting up their preferred order types. The platform also provides real-time market data, price alerts, and advanced trading tools like take-profit and stop-loss orders, enhancing the overall trading experience.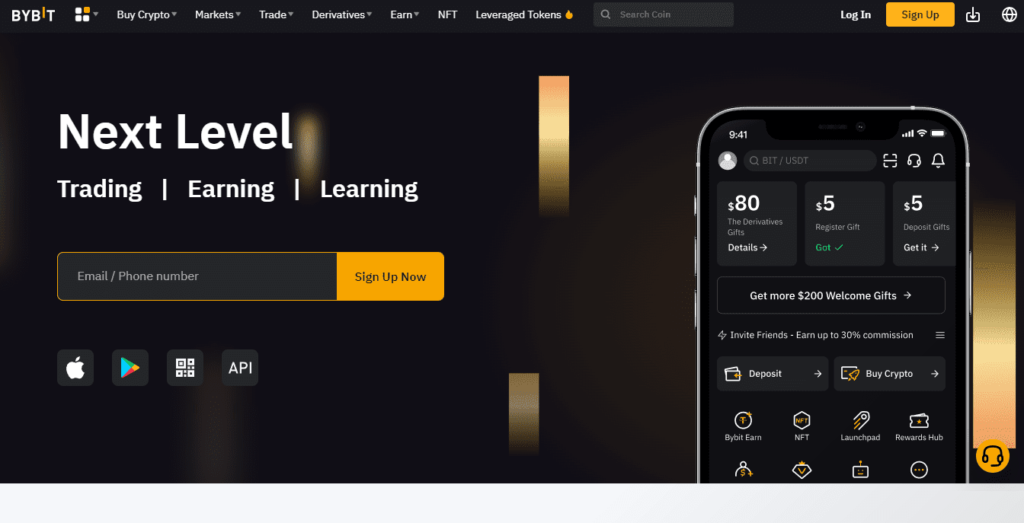 ByBit Security Measures
When it comes to security, Bybit prioritizes the safety of user funds and personal information. The exchange implements industry-standard security practices, including two-factor authentication (2FA) and cold storage for user assets.
Bybit stores the majority of its users' funds in offline, air-gapped wallets, keeping them inaccessible to potential hackers. Additionally, the platform employs strict Know Your Customer (KYC) procedures to ensure compliance with regulatory requirements.
ByBit Fees and Trading Costs
Bybit offers an exceptional opportunity for cryptocurrency investors with its fee structure and trading costs. Unlike other platforms, Bybit allows users to invest in cryptocurrencies through spot markets without incurring any fees. This zero-fee feature is currently available as part of Bybit's celebration of reaching 10 million registered users. Additionally, the exchange supports various free fiat currency deposit methods, depending on the user's country, and all crypto deposits are free of charge.
When it comes to cryptocurrency withdrawals, Bybit only imposes a small fee, typically under $5, to cover the cost of gas. This ensures that users can conveniently and affordably transfer their crypto assets.
For futures trading, Bybit offers one of the lowest maker/taker rebate rates globally, starting at 0.01% for makers and 0.06% for takers. The rebate rate becomes even more favorable as your monthly trading volume increases, potentially resulting in Bybit paying you fees for your trading activity.
For a comprehensive breakdown of Bybit's fee structure, I recommend referring to their Fees Schedule, which provides detailed information on trading costs and fees associated with different services. Bybit's commitment to offering competitive and transparent fees makes it an attractive choice for cryptocurrency traders.
ByBit Customer Support
Bybit takes customer support seriously and strives to provide a high-quality experience for its users. The platform offers comprehensive customer support services to address any inquiries or issues that may arise.
Users can reach out to Bybit's customer support team through various channels, including email and live chat. The support team is dedicated to assisting users promptly and efficiently, ensuring that their questions are answered and concerns are addressed in a timely manner.
Bybit also maintains a detailed FAQ section on its website, covering a wide range of topics related to account management, trading features, and technical aspects. This resource can be particularly helpful for users seeking quick answers to common queries.
In addition to email and live chat support, Bybit has an active presence on social media platforms, where users can engage with the community and stay updated on the latest announcements and developments.
ByBit Leverage and Liquidity
Bybit offers leverage options for traders, allowing them to amplify their potential profits or losses. The leverage available on the platform ranges from 1x to 100x, depending on the cryptocurrency and contract type. While high leverage can be attractive to experienced traders, it is important to note that it also increases the risk of significant losses.
Bybit's liquidity is commendable, particularly for Bitcoin and Ethereum trading pairs. The exchange has managed to attract a large user base, resulting in a relatively liquid market, which is crucial for executing trades without significant slippage.
ByBit Mobile App
In addition to its web platform, Bybit offers a user-friendly mobile application that allows traders to access the exchange on the go. With the Bybit mobile app, available for both iOS and Android devices, users can conveniently manage their cryptocurrency trades anytime, anywhere.
The app has garnered positive reviews, with a rating of 3.9 stars from 700 reviews on the Apple App Store and 3.8 stars from 75,000 reviews on the Google Play Store. These ratings reflect the app's popularity and reliability among users.
The Bybit mobile app provides the same extensive functionality as its web version, ensuring a seamless trading experience. Users can easily navigate through the app's intuitive interface, access real-time market data, and execute trades with just a few taps. The app supports spot trading as well as leveraged trading with futures contracts, offering users the flexibility to engage in a variety of trading strategies.
Key Features of the Bybit Mobile App:
User-Friendly Interface: The app is designed to be intuitive and user-friendly, making it easy for both novice and experienced traders to navigate the platform. The interface is optimized for mobile devices, providing a smooth and responsive trading experience.
Real-Time Market Data: Users can access real-time price charts, order books, and trading history to stay updated with market movements and make informed trading decisions. The app's charts are interactive and customizable, allowing traders to analyze market trends and apply technical indicators.
Order Placement and Management: With the mobile app, users can place market orders, limit orders, and conditional orders with ease. They can also monitor and manage their open positions, set stop-loss and take-profit levels, and modify orders as needed.
Account Security: Bybit prioritizes the security of user funds and personal information. The mobile app implements advanced security measures, including two-factor authentication (2FA), to ensure the safety of user accounts.
Price Alerts and Notifications: Traders can set price alerts and receive push notifications, keeping them updated on price movements and important market events. This feature allows users to stay informed even when they are not actively using the app.
ByBit NFT Marketplace
The Bybit NFT Marketplace offers a platform where users can engage in the buying, selling, and trading of Non-Fungible Tokens (NFTs) directly within the Bybit exchange. This marketplace enables users to explore and acquire various types of NFTs, including digital art, limited edition in-game items, and event tickets. Each NFT on Bybit is equipped with unique cryptographic identifiers, allowing users to verify the ownership and authenticity of their digital assets.
Aside from the standard buying and selling activities, the Bybit NFT Marketplace also provides opportunities for users to participate in special events such as auctions and limited drops. These events offer a chance to acquire rare and exclusive NFTs that may have special significance or value within the NFT community.
It is important to note that the Bybit NFT Marketplace may not support popular NFT projects commonly found on mainstream platforms like OpenSea or Rarible. However, it offers its own selection of NFTs for users to explore and engage with.
Is Bybit Regulated?
Bybit, as stated on its website, is registered in the British Virgin Islands (BVI) and operates under BVI laws and regulations. However, it is important to note that Bybit is not subject to the regulatory oversight of any specific country or regulatory authority.
Regulation is an essential aspect to consider when choosing a cryptocurrency exchange, as it provides a level of oversight and protection for users. The absence of specific regulation for Bybit may raise concerns for some potential users.
While the lack of regulation does not automatically imply that Bybit is untrustworthy or unreliable, it is crucial to conduct thorough research and due diligence before using any financial platform, particularly when dealing with cryptocurrencies.
Bybit's commitment to compliance and security is emphasized on its website. They strive to maintain high standards and provide a safe trading environment for their users. However, it is advisable for individuals to carefully assess the risks involved and consider their personal preferences when deciding whether to use a regulated or unregulated exchange.
It is also worth noting that Bybit has a list of service-restricted countries. To obtain an up-to-date and complete list of these countries, users should refer to Bybit's official website.
Is Bybit a Safe Cryptocurrency Exchange?
Bybit prioritizes the security of its users' funds and has implemented several measures to ensure a safe trading environment. While the exchange is registered as "Bybit Fintech Limited" in the BVI (British Virgin Islands), it is important to note that it is currently not regulated in any other country. As a result, the platform does not require users to verify their identities. However, despite the lack of regulation, Bybit has maintained a strong track record in terms of security and has not experienced any significant cyber attacks to date.
Bybit employs robust security protocols to protect user accounts and data. The exchange utilizes SSL encryption technology to secure all website data and communications, safeguarding them from unauthorized access. Additionally, users have the option to enable two-factor authentication (2FA) as an extra layer of account protection, adding an additional level of security to the login process.
When it comes to the storage of funds, Bybit takes precautions to ensure their safety. The exchange stores 98% of user assets in multi-signature cold wallets, which are offline and inaccessible to potential hackers. By keeping the majority of funds offline, Bybit minimizes the risk of loss due to security breaches. Furthermore, the platform regularly conducts security audits and maintains a dedicated team to monitor and respond to any potential security threats.
It is worth mentioning that the lack of regulatory oversight may be a concern for some users. The regulation provides an additional layer of protection and oversight, ensuring compliance with established standards and guidelines. Without regulation, there is a potential risk associated with the exchange's operations. However, Bybit has demonstrated a commitment to maintaining a secure platform and has not encountered any major security breaches or incidents thus far.
To further enhance user security, Bybit provides educational resources, including videos and tutorials, to help users understand and implement best practices for securing their accounts. These resources offer valuable insights into account security and provide users with tips to protect their funds.
Can I Stake Cryptocurrencies on Bybit?
Yes, Bybit offers a wide range of staking options, making it one of the leading platforms for cryptocurrency staking. Here is a quick overview of the different staking types available on Bybit:
Bybit Savings: Bybit allows you to stake 22 different tokens, including popular cryptocurrencies like BTC, ETH, USDC, USDT, and ADA. You have the flexibility to choose between flexible and fixed-term contracts, with yields going up to an impressive 180%.
Liquidity Mining: Bybit offers liquidity pools based on the automated market maker model. You can participate in these pools by adding liquidity, which allows you to earn yields from trading fees. By adding leverage, you can maximize your share of the pool and increase your overall yields. Bybit provides 15 different pools, all paired with USDT, with APY ranging from 3% to 50%.
Dual Asset: Bybit offers short fixed-term staking options with durations of 1, 3, or 5 days. These staking options involve double-sided staking with USDT on 28 different tokens. The APY for these staking options can be remarkably high, reaching up to 450%.
Shark Fin: Bybit provides a unique staking product called Shark Fin. It is a principal-guaranteed staking product that allows you to take advantage of the expansion or contraction of volatility in selected cryptocurrencies. This staking option offers an opportunity to capitalize on market fluctuations and potentially earn significant returns.
Bybit's diverse range of staking options caters to different risk appetites and investment preferences. Whether you prefer long-term staking, short-term staking, or taking advantage of market volatility, Bybit has options to suit your needs.
For a more detailed breakdown of Bybit's staking options, it is recommended to visit the platform's Earn page. Keep in mind that staking cryptocurrencies involves risks, and it is important to conduct thorough research and consider the associated risks before engaging in any staking activities.
Conclusion
Bybit is a reputable cryptocurrency derivatives exchange that provides traders with a user-friendly interface, advanced trading features, and robust security measures.
Its commitment to transparency, competitive fee structure, and comprehensive customer support contribute to its growing popularity in the crypto community. However, it is essential for traders to exercise caution when engaging in leveraged trading and to conduct thorough research before entering the cryptocurrency market.
P.S. Get up to 30,000 USDT bonus when you join Bybit!
Register, deposit, and start trading to seize this amazing opportunity. Simply create an account, make a deposit, and the bonus amount will be determined by your deposit. Trade cryptocurrencies and maximize your profits while Bybit tracks your volume.
Don't miss out on this exciting offer! Register on Bybit, deposit funds, and engage in trading to unlock up to 30,000 USDT in bonuses. It's a fantastic opportunity to boost your trading capital and make the most of your experience on the platform.
Disclaimer: This article is for informational purposes only and should not be considered financial or investment advice. Trading cryptocurrencies involves risks, and individuals should seek professional guidance before making any investment