If you're looking to start a Shopify store, then you are in the right place!
Shopify is an all-in-one e-commerce platform that allows you to create an online store, manage your inventory, and accept payments. With over a million businesses using Shopify, it's clear that it's a trusted and reliable platform.
But where do you start? How do you set up your Shopify store? This ultimate beginner's guide will walk you through everything you need to know to start your own Shopify store. From setting up your account to designing your store and adding products, we've got you covered.
Whether you're selling physical products, digital downloads, or a combination of both, this guide will give you the knowledge and confidence you need to launch a successful Shopify store.
So let's get started and turn your eCommerce dreams into reality!
What is dropshipping?
Dropshipping is an order fulfillment method where a store doesn't keep the products it sells in stock. Instead, the store purchases the item from a third-party supplier and has it shipped to the customer. As a result, the seller doesn't have to handle the product directly.
The biggest difference between dropshipping and the standard retail model is that the selling merchant doesn't stock or own inventory. Instead, the seller purchases inventory as needed from a third party—usually a wholesaler or manufacturer—to fulfill orders.
Is dropshipping still profitable in 2023?
The short answer is Yes. dropshipping is still profitable in 2023. This question came every year, and will probably come in 2023 and 2024 as well.
Yes, a lot of people are starting dropshipping stores now, but if you got the correct mindset (that you're building a real business and not a "make quick money store"), then you have a head start already!
Can you start dropshipping without money in 2023?
No, you most likely need some money to start a dropshipping business, but knowing how to spend that money when you're just beginning with dropshipping will definitely help you save money!
The costs will all depend on your experience and what kind of plan you're going to follow. Are you going to self-host your store, or are you going to use an eCommerce platform like Shopify?
Starting a dropshipping website is very simple. Thanks to solutions like Shopify. If you want to create an online store using Shopify, then you have come to the right place!
In this guide, I'll walk you through the exact step-by-step process of starting a Shopify dropshipping website.
So, just follow along with me.
Why Shopify?
Shopify is software that makes creating online stores very easy, you don't need to know a single line of web code
Shopify lets you add your own domain name, hosts the store for you, and maintains the complicated 'back end.
Shopify processes, manage and tracks all your orders and payments, letting you focus on the business.
Designing your store is very easy, with a lot of themes to choose from.
Sounds great, Isn't it?
The Costs of Launching a Shopify Dropshipping Store
Starting a Shopify dropshipping store is a relatively low-cost endeavor.
The basic Shopify plan starts at just $29 per month, and you can use apps to automate many of the tasks associated with running a store, which can help keep your costs down.
Of course, there are other costs to consider beyond the monthly fee for your Shopify plan. You'll need to factor in costs for things like product sourcing, marketing, and any other expenses associated with running your business.
Assuming you already have a computer and internet access, your total startup costs for starting a Shopify dropshipping store could be as low as $500. Of course, you can always spend more (or less) depending on the size and scope of your business.
What do you need to start a Shopify dropshipping store?
In addition to a computer and internet connection, there are a few other things you'll need to start a Shopify dropshipping store:
A domain name: This is the address of your store on the web. If you don't have a domain name yet, don't worry – Shopify will help you choose one when you set up your store.
A payment processor: This is how you'll accept payments from customers. Shopify integrates with major payment processors like PayPal and Stripe, so you can get started quickly and easily.
A product sourcing strategy: You'll need to decide where you're going to source the products you'll be selling in your store. We'll talk more about this later on.
Once you have these things in place, you're ready to set up your Shopify store. Just follow the steps listed below and you will start your very first Shopify dropshipping store in no time!
Ready? Let's get started!
7 Steps to Start a Shopify Store?
Step 1. Start a free trial
The first thing you'll need to do is start your free trial of Shopify. The free trial lets you try the product out for three days, after which you only pay $1 per month for the first three months of a Shopify subscription.
You don't need to enter any credit card details to create your Shopify account and start your trial — however, you will be asked a few questions.
The most important of these is what you'd like your store name to be because it will form your default Shopify URL (i.e., 'yourstorename.myshopify.com'). That said, it's not the end of the world if you can't think of the perfect store name / URL at this stage, because you can just skip this decision and let Shopify generate a URL for you (this will be a combination of characters and letters — f12345.myshopify.com, etc.).
If you choose to let Shopify generate one for you, you can change it at a later stage — but you should note that you can do this only once. However, if you name your store during the free trial set-up, you won't have the option to change the 'myshopify' URL after that.
Of course, you can buy a custom domain for your store whenever you like — i.e., yourstorename.com — and this will be the web address that your customers see, rather than the 'myshopify' one.
Once you've answered Shopify's questions, you'll find yourself inside your brand-new Shopify account. Now you can start adding products, pick a theme and configure your payment and shipping options.
Now Let's add your very first product!
Step
2. Add Products to Your Store
You can choose to add any sort of physical product that you are selling. or just anything you ever wish to sell in your store.
In the next steps, we are going to take you through how to upload a product manually. You can add products by following the Shopify tips, this is illustrated in the screenshot above
Once you click on 'Add Product' it will take you to the page below: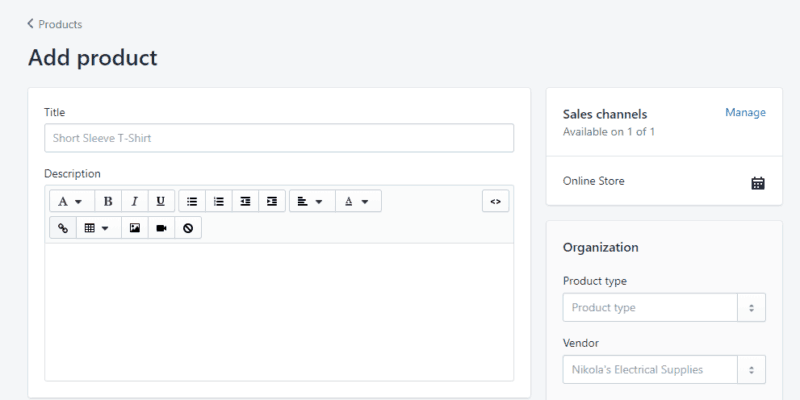 Enter the name and description of your product. please choose your words carefully, because that makes your product stand out! It also helps your SEO.
Upload the best images of your product.
Set your price and inventory details.
Enter product weight for shipping purposes.
Add variants for size, color, or fabrics.
Once everything is filled out, make sure to click the 'Save product' button.
Repeat these steps to add as many products as you want. You can also add them to collections, for example, if you're selling women's jewelry, your collections will be (from top to the bottom): Earrings, Rings, Necklaces, Watches, Bracelets, etc.
Great! now it's time to customize your store.
Step 3. Customize Your Store
Once you have successfully added a product and worked on the pricing, it is now time to customize the theme to make it appealing. Note that the default theme could be boring and unattractive.
when you visit the Shopify theme store, you will have hundreds of themes to choose from. If you do not feel like spending any cash quite yet there are a lot of free themes to choose from as well.
You can click on any of them and go through the features. Each of the themes will come with a number of layouts for you to choose from.
The next screenshots highlight some of the free templates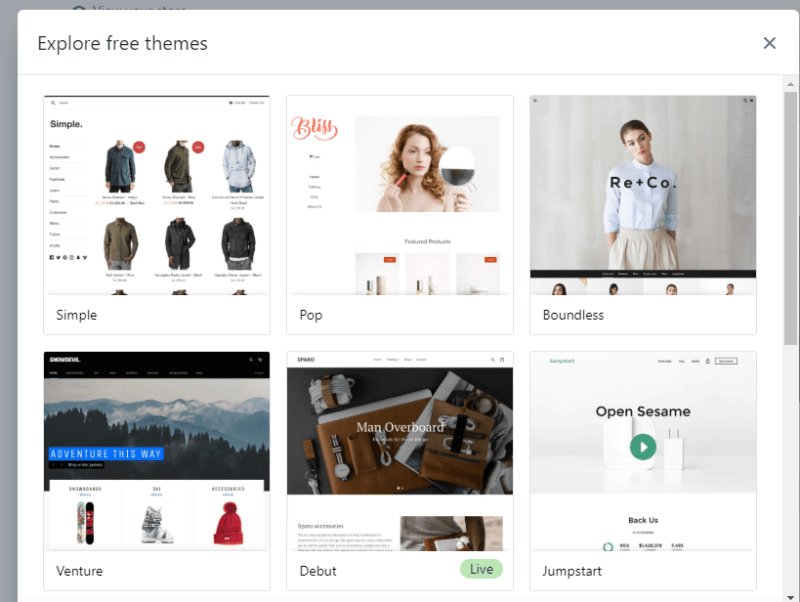 Keep your business and inventory goals in mind when you're browsing the theme store. You can click the 'View demo' button on any theme in the store to see a working version of the theme.
All themes come with a drag-and-drop feature so you can edit them the way you want without having to touch a line of code.
isn't that cool?
Should I Get a Free or Premium Theme?
Well, If you are just starting out a free theme is totally fine. But, Once you start making money I recommend switching to a premium theme like the Debutify theme. That's what I am using for all of my stores.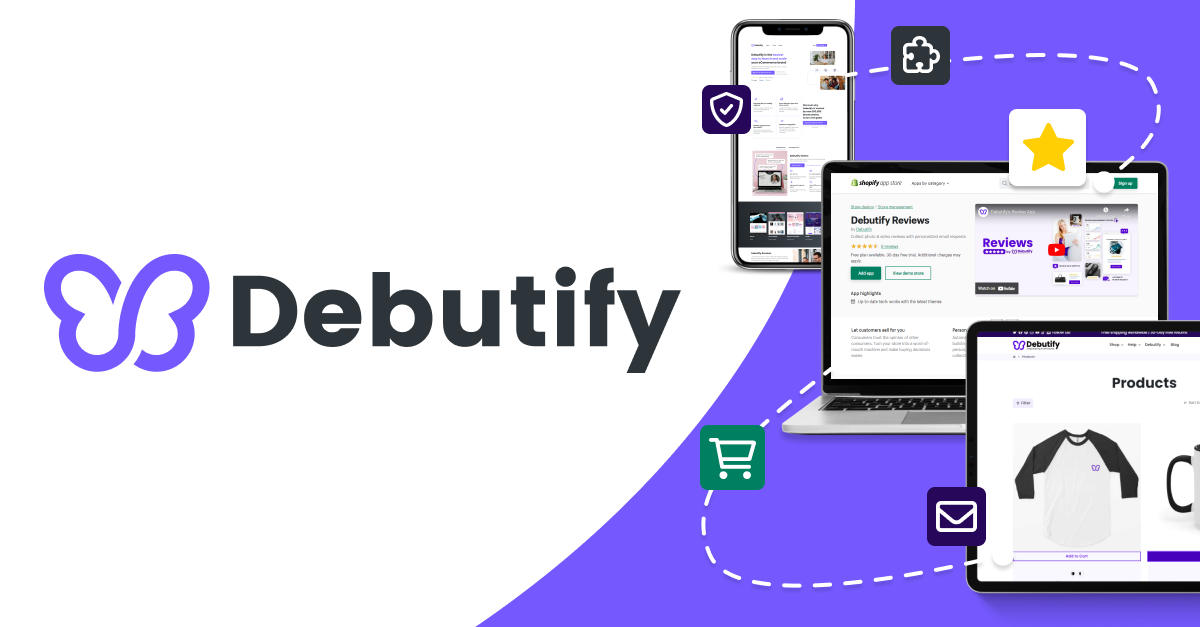 The final step is adding a domain.
Step 4. Add a Domain Name
Why should I buy a custom domain name?
Adding a custom domain name to your store makes it look professional.
You will need a custom domain to get your store live.
The easiest way to add a domain to your store is to buy it from Shopify, and it will be added to your store automatically. To do that, first, go to the online store, Domains after that click on the "Buy a new domain" button.
If you already have a domain name click Connect existing domain click the "Connect existing domain" button then enter your domain's name and click the "Next" button and so on, just follow their instructions …
For more information on how to connect your domain name to your store click Here!
Step 5. Edit your Settings
Perhaps the most important step after finishing these three steps is your Settings. In your Shopify dashboard take a look at the bottom left corner, click on Settings and something like that will pop up.
5.1. Set up shipping and tax rates
You will need to choose to add additional shipping costs and taxes to your items or to let Shopify know that you have included them in your item price.
Shopify includes some basic rates for you to get you started, but depending on what you are selling, you may need to customize more options.
5.2. Set up payments
Now it's time to set up your payments (how customers will pay you). Perhaps the most important step after adding your products is setting up how customers will pay you.
If you are in the USA, Canada, or the UK you can accept payments with Shopify Payments that accept credit cards without needing to set up a third-party payment gateway or merchant account. Shopify also integrates with many different payment processing services including Paypal, Amazon Payments, and Google Wallet.
You can see their list of over 90 third-party processors in the FAQ.
Step 6. Launch Your Store
If you have followed the steps above, Congrats Your Shopify Store is Ready!
Choosing Apps for more Features
Shopify has hundreds of both free and premium apps that you can use to enhance the functionality of your store.
First of all, to go to the app store select Apps on your Shopify dashboard then click the "Visit Shopify App Store" button. You will see something like that:
you can choose as many apps as you want, if you're not sure where to start, this is my list of recommendations:
To start off this list, you need to have an app that processes your dropshipping orders for you like Oberlo. it's free and that's what most people use. You can do this without any app, but ask yourself if you want to manually enter your customer's information each time you get a new order.
The most important thing to do with your store would be to configure your SEO settings for the product pages and add email marketing support, so your customers can join your mailing list.
Now hit the 'Publish' button and your online store will be live to the world.
Step 7. Marketing your store
Creating a Shopify store doesn't mean it's gonna be profitable overnight. Especially if it's a new store there is no chance it's gonna get organic traffic from search engines like google because SEO takes time usually between 3 and 6 months to start seeing the results.
So in order to make your first sale, you need to drive traffic, for example using (Fb ads, Google Adwords, and Instagram influencers).
Tips for Running a Dropshipping Store After Launch
Now that you've launched your Shopify dropshipping store, it's time to start thinking about how to run it effectively. Here are seven tips to help you get started:
Keep an Eye on Your Orders.
As a dropshipper, you'll need to regularly check in on your orders to make sure that they're being processed and shipped on time. You can do this by logging into your Shopify account and checking the "Orders" tab.
If you see any orders that are delayed, reach out to your supplier immediately to find out what's going on.
Monitor Your Inventory Levels.
Dropshipping stores typically have a lot of products, which can make it difficult to keep track of inventory levels. That's why it's important to set up a system to track your inventory and reorder products when necessary.
There are a few different ways you can do this:
Use the "Inventory" tab in your Shopify account. This tab will show you how many of each product you have in stock.
Use a third-party inventory management system. This can be helpful if you have a lot of products and need more features than what Shopify offers.
Use a Google Sheet to track your inventory levels. This is a good option if you only have a few products.
Whatever method you choose, make sure you check your inventory levels regularly and reorder products when necessary.
Stay Up-to-Date on Your Industry.
In order to run a successful dropshipping business, you need to stay up-to-date on the latest industry news and trends. This will help you find new products to sell, identify opportunities for marketing and promotions, and make sure you're using the best dropshipping practices.
There are a few different ways you can stay up-to-date on the latest industry news and trends:
Read industry-related blog posts.
Listen to podcasts about dropshipping and eCommerce.
Attend trade shows and conferences.
Connect with other entrepreneurs through networking events and online forums.
Offer Excellent Customer Service.
Another important aspect of running a successful dropshipping business is offering excellent customer service. This means being responsive to customer inquiries, offering refunds and returns when necessary, and going above and beyond to make sure your customers are happy.
It can be helpful to set up a system for customer service so that you can keep track of all inquiries and make sure they are dealt with in a timely manner.
You may also want to consider hiring someone specifically for customer service if you find that you don't have the time to handle it yourself.
Offer Fast and Free Shipping.
When customers are shopping online, they expect to receive their items quickly and for free. If you can't offer fast and free shipping, you may lose out to competitors who can.
To keep your customers happy, it's important to set realistic expectations for shipping times. You should also offer free shipping whenever possible. If you do need to charge for shipping, make sure it's clear upfront so that customers aren't surprised when they reach the checkout page.
Make Use of Social Media.
Social media is a great way to connect with potential and current customers. It's also a great platform for marketing your business and promoting your products.
There are a few different ways you can use social media for your dropshipping business:
Use it to connect with potential and current customers.
Use it to share news and updates about your business.
Use it to promote sales and discounts.
Use it to run social media ads.
Run Google Ads.
Another great way to market your dropshipping business is through Google Ads. Google Ads is a pay-per-click advertising platform that allows you to place ads on Google's search engine results pages.
When done correctly, Google Ads can be a great way to drive traffic to your website and generate sales. However, it can be difficult to set up and manage a successful Google Ads campaign, so it's important to do some research before you get started.
Use Email Marketing.
Email marketing is a great way to stay in touch with your customers and promote your business.
You can use email marketing to send out news and updates about your business, promote sales and discounts, and even run targeted campaigns.
If you're not sure where to start with email marketing, MailChimp is a great option. MailChimp offers a free plan that allows you to send up to 12,000 emails per month.
Analyze Your Data.
One of the most important aspects of running a successful dropshipping business is analyzing your data. This data can be used to track your progress, find areas for improvement, and make changes to your business.
To track your progress, you'll want to keep track of your sales, traffic, and conversion data. You can use this data to see how your business is doing and make changes accordingly.
To find areas for improvement, you can use Google Analytics to see which pages on your website are getting the most traffic and which ones are converting the most visitors into customers.
You can then make changes to these pages to try to improve your conversion rate.
Stay Up-to-Date on Industry News.
To be a successful dropshipper, you need to stay up-to-date on industry news. This way, you'll know what's happening in the world of eCommerce and you can make changes to your business accordingly.
You can stay up-to-date on industry news by reading relevant blogs, listening to podcasts, and attending conferences and events.
Frequently Asked Questions.
How much does it cost to start Dropshipping on Shopify?
The cost to start a dropshipping business on Shopify varies depending on your budget and the specific tools and services you need. The main expenses you'll incur include:
Shopify subscription fees: Shopify offers a variety of subscription plans starting from $29/month. You'll need to choose a plan that suits your needs and budget.
Domain name: You can purchase a domain name for your Shopify store starting from $9/year.
Shopify apps: There are numerous Shopify apps that can help you with different aspects of your dropshipping business, such as product sourcing, marketing, and customer support. These apps come at varying costs, some being free while others require a monthly or one-time payment.
Marketing expenses: You may need to invest in marketing and advertising to drive traffic to your store and increase sales. This can include paid advertising on social media platforms, Google Ads, and influencer marketing.
Overall, the cost of starting a dropshipping business on Shopify can range from a few hundred dollars to a few thousand dollars, depending on your needs and goals.
How long does it take to start a dropshipping business?
The timeline for starting a dropshipping business on Shopify can vary depending on your level of experience and the complexity of your store. However, if you have a clear plan and follow the necessary steps, you can typically launch your store within a few weeks to a month.
The key steps involved in starting a dropshipping business on Shopify include:
Choosing a niche and researching products
Setting up your Shopify store
Sourcing and adding products to your store
Configuring payment and shipping options
Testing and optimizing your store
The amount of time it takes to complete each of these steps can vary depending on your level of expertise and the amount of time you can commit each day. However, with dedication and effort, you can launch your dropshipping business on Shopify within a reasonable timeframe.
Can I make money dropshipping on Shopify?
Yes, you can make money dropshipping on Shopify if you have a solid strategy in place and are willing to put in the time and effort required to build a successful business. Dropshipping can be a lucrative business model as it allows you to start an e-commerce store with minimal investment and without the need to hold inventory.
To make money dropshipping on Shopify, you need to focus on the following:
Choosing a profitable niche with high demand and low competition
Sourcing high-quality products from reliable suppliers
Creating a visually appealing and user-friendly online store
Implementing effective marketing strategies to attract customers and generate sales
Providing exceptional customer service to ensure customer satisfaction and loyalty
Dropshipping success is not guaranteed, and it can take time to build a profitable business. However, with patience, hard work, and a willingness to learn and adapt, you can make money dropshipping on Shopify.
Can you start Shopify dropshipping with no money?
This is a common question that people new to Shopify and dropshipping ask. The answer is yes, you can start Dropshipping on Shopify without any money.
There are a few methods you can use to start your store without any initial investment. You can use Shopify's 14-day free trial to start your store and add products. You can also find free themes and apps to use during your trial period. Another method is to sign up for a Shopify affiliate account. As an affiliate, you'll earn a commission for every sale you generate for Shopify. You can use this money to fund your store.
Заключение
Starting a Shopify store is an excellent way to turn your entrepreneurial dreams into a reality. With the help of this Ultimate Beginner's Guide, you now have all the knowledge you need to start building your online business with Shopify.
Remember that success in e-commerce takes time and effort, but with the right mindset and strategies, you can build a thriving online store that generates consistent revenue. Make sure to invest time in market research, product selection, and branding to stand out from the competition.
Always keep in mind that your customers are at the heart of your business, so focus on providing them with an exceptional shopping experience by optimizing your website's design, navigation, and checkout process.
Finally, don't forget to leverage the power of social media, email marketing, and search engine optimization (SEO) to drive traffic to your store and increase sales.
Starting a Shopify store can be a daunting task, but with this guide, you have everything you need to start your journey with confidence. So, what are you waiting for? Go ahead and start building your dream store today!