UserTesting is an online platform that allows companies to outsource the testing of their websites/software/etc. with real people who use them in everyday life.
This is different than usability testing, which is conducted internally by testers and developers. The service simply provides a way for businesses to get feedback from real users of their site who aren't familiar with the processes behind it.
In this article, we will give you a full and in-depth UserTesting review, so you can decide whether UserTesting is good for you or not.
How Does UserTesting Work?
Companies sign up for a UserTesting account and post a project on their dashboard detailing what they need to be tested, how much they want to pay per video, and when they need it.
Users can then apply to test through the website's job board, and businesses can designate testers based on their qualifications.
Once selected to test for a company, users will receive an email with the link to the task (i.e. website or app) they must visit and record themselves speaking out loud while they navigate through it for 5-10 minutes.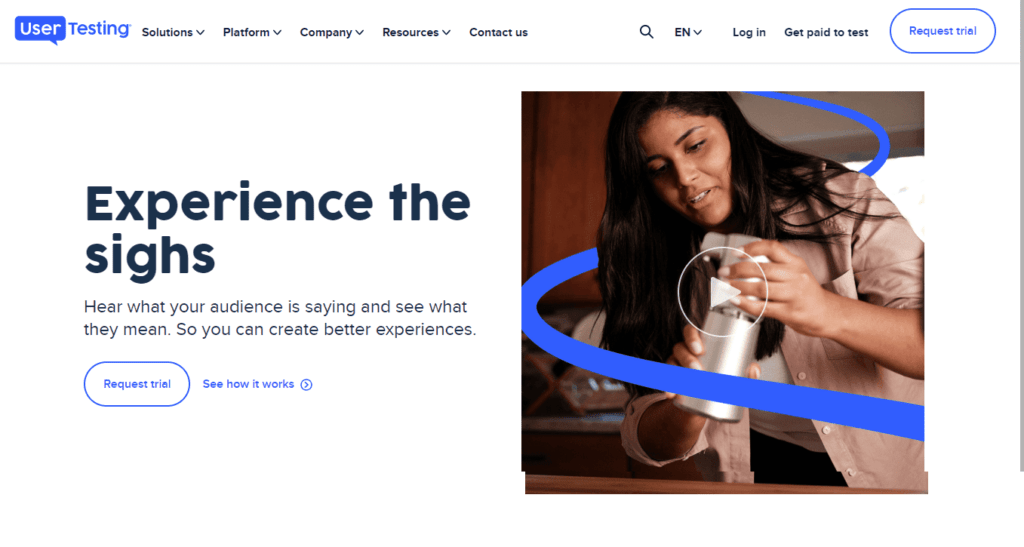 When testing is complete, videos are available for review with a pass/fail grading system. In addition, testers are asked to answer a short survey about their experience with the website.
Once approved, companies can download test results from UserTesting and watch videos with written transcripts of what was said at the time of recording.
In return for testing, users earn money that is deposited into their PayPal accounts.
What Do Reviewers Say About UserTesting?

UserTesting has generally received positive reviews from testers and users alike. Here are some of the things that reviewers say about the platform:
User-friendly interface: Many reviewers appreciate the simple and intuitive interface of UserTesting. It's easy to sign up, find available tests, and complete them within a reasonable amount of time.
Good compensation: Reviewers generally agree that UserTesting pays well for the time and effort required to complete tests. While payouts can vary depending on the length and complexity of a test, most testers earn anywhere from $10 to $60 per test.
A varied selection of tests: Users appreciate the variety of tests available on UserTesting. There are tests for websites, mobile apps, software, and even physical products. This allows testers to find tests that are of interest to them and match their skillset.
Professional support: Reviewers often mention the professional support provided by UserTesting. The company provides clear instructions and helpful tips to ensure that testers are successful in completing tests. Additionally, if there are any technical issues, testers can reach out to support staff for assistance.
Limited availability of tests: Some reviewers have noted that there can be limited availability of tests, especially for newer testers. However, this is common with many similar platforms, and UserTesting still provides a steady stream of tests for active testers.
Overall, UserTesting is well-regarded by its users and testers. It provides a valuable service for companies looking to improve their products, while also offering a legitimate way for people to make some extra money in their spare time.
Does UserTesting Really Work?
As far as online jobs go, UserTesting is definitely one of the easiest and most convenient ways to make money with your laptop.
Unlike some user testing websites (Crowd Source), the feedback you give is actually meaningful and provides legitimate results for businesses in need of assistance. In addition to that, it's also a great supplemental income if you're able to find consistent work from it.
In terms of how much users can earn with UserTesting, rates range from $10 – $20 per video, and the number of hours worked is entirely up to the user (users average 2-3 projects a week).
The length of time it takes to get paid varies on the way you choose to receive your money (PayPal or Check).
How To Sign Up for UserTesting
Here's How To Sign Up:
If you'd like to sign up for UserTesting, visit their website and click "Become a Tester" in the upper right-hand corner. From there, complete the registration form and fill out your profile.
It should be noted that UserTesting grounds its application process in the idea of improving its system and receiving honest feedback, so businesses will only review profiles that have completed a video test. Once you're approved to become a user tester, visit their job board for available projects and start signing up!
UserTesting FAQs.
Is UserTesting Legit?
UserTesting is a completely legitimate website and business. They are a well-known company in the website and app testing industry and have been in business for many years.
How Much Does UserTesting Pay?
UserTesting pays $10 for every 20-minute video you complete. Payments are made through PayPal 7 days after you complete a test. There are also opportunities to earn a bonus of $15 for each hour-long test you complete, or $60 for tests on mobile devices.
UserTesting is one of the highest-paying website testing companies out there. To give you an idea of how much you could potentially earn, one member earned over $1,000 in one month by taking tests.
Why UserTesting?
UserTesting is a great way to make some extra money online. It's simple to sign up and they provide everything you need to get started. You don't need any experience or qualifications, and you can start earning money straight away. I would recommend UserTesting to anyone looking for a simple way to make money online.
结论
UserTesting is a great way to earn some extra money by testing websites and apps. It's simple to sign up and you can start earning money straight away.
The pay is good and the tests are usually quick and easy to do. I would definitely recommend UserTesting to anyone looking for a way to make some extra money.
For more information on how to become a user tester and the application process, feel free to refer to our post " How to Become a User Tester " for more information.
Please feel free to share your experience with other users in the comments below!